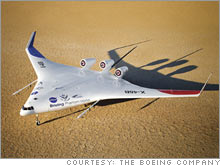 It would be a dream come true for the airline industry: A plane that uses up to 30 percent less gas to reach its destination, compared with today's jets.

That's the promise of the blended-wing, a radically new kind of aircraft set to take to the skies for the first time this month. Originally conceived by McDonnell Douglas and developed by NASA, the blended-wing merges fuselage and wings and eliminates the tail, reducing drag. That makes it vastly more fuel-efficient than regular "tube-and-wing" jets, according to Boeing engineer Norm Princen.

For now Boeing is focused on making a military version of the plane by 2022. But by 2030 blended-wing aircraft could be carrying commercial passengers. Last November a team from MIT and Cambridge University unveiled the SAX-40, a blended-wing design that promises to be more fuel-efficient than a Toyota Prius – and thanks in part to the engine placement, just as quiet (at 63 decibels).
[CNN.com]